Are you travelling to Munich and looking for some great gay-friendly places to grab a bite to eat? Look no further! Read on for a list of some of the most popular gay-friendly cafes and restaurants in Munich!
Restaurant Deutsche Eiche
The gay side of Munich spans Sendlinger Tor to the Reichenbachstraße; the dominant building in this area is the Deutsche Eiche Hotel. As a fixture in a gay-owned hotel, Restaurant Deutsche Eiche is a welcoming place to try a variety of traditional and modern dishes, including a dish inspired by celebrity patron Freddie Mercury. This restaurant was made famous by queer artists in the 19th century. Although it has been revamped since then, it is still an important part of Munich's thriving gay scene. Restaurant Deutsche Eiche is a popular place to visit for drinks as well, with an extensive list of beer and wine on offer.
Phone: +49 89/231 1660
Address: Reichenbachstraße 13, Munich, Germany 80469
Café Regenbogen
For diners interested in doing some good while enjoying tasty eats, Café Regenbogen is a name that you should know! Part of the Munich AIDS-Hilfe, an organization focusing on HIV information and education, this eatery donates its proceeds to LGBT causes, including HIV sufferers and their loved ones. While the menu offers a variety of choices, the standout feature of this cafe is its Monday schnitzel evening! This is a great opportunity to get a taste of some of Germany's most famous cuisine. The cafe also hosts a happy hour on weeknights from 8-11.
Phone:+49 89 5433 3102
Address: Lindwurmstraße 71, Munich, Germany, 80337
Café NiL
This eatery, mostly frequented by gay men, has a significant history in the Munich gay scene. It started as a Turkish sauna famous among the city's gay population. It has since been reimagined as a restaurant. Reflecting the name, the place is decorated in an Egyptian style, and offers a comfortable atmosphere for eating and lounging. Standing out on its list of specialties is cornflake schnitzel: a unique take on a classic dish. Café NiL also offers an assortment of beers, wines, and coffees that you can sip while gazing out into the city.
Phone: +49 89/238 89595
Address: Hans-Sachs-Straße 2, Munich, Germany 80469
Moro
Moro is a restaurant right in the heart of Munich's gay district. This eatery offers a variety of international cuisines, from Viennese apple pancakes to Irish beef sirloin steak to basil gnocchi. This restaurant is particularly great in the summer, when you can dine on its sun soaked terrace while you enjoy a meal or a drink. The restaurant also hosts live music, marking it as a fixture in local nightlife. Moro is also known for its tasty cocktails, making at a common stop for those exploring Munich's nightlife.
Phone: +49 89/230 02992
Address: Müllerstraße 30, Munich, Germany 80469
Kraftwerk
Kraftwerk, meaning "power station" in German, is a local queer institution. It's large, windowed, prominent space has come to represent an out and proud gay culture in Munich. At Kraftwerk, you can expect delicious Mediterranean cuisine in addition to items such as burgers and pastas. The venue also offers some outdoor seating for those warm summer days. Despite its large size and open style, the place has a cozy vibe, as you can often find LGBT locals just hanging around and having a good time. And of course, sipping on the bistro's beer and espresso selections!
Phone: +49 89/215 88881
Address: Thalkirchner Straße 4, Munich, Germany, 80337
Andy's Krablergarten
If you're looking to experience the local Bavarian culture in a place that is gay-friendly, Andy's Krablergarten is a staple for Bavarian cuisine. Schnitzel is a popular item on the menu; the restaurant offers a dozen different schnitzel options, as well as numerous Cordon Bleu specialties. With its daily specials, the menu is constantly evolving. The restaurant is always hopping in the summer, as its beer garden is a popular place for locals to sip on beers while hanging out in the sun. Patrons also rave about the friendly and fast service, so you can be sure to have a pleasant experience here.
Phone: +49 89 2601 9148
Address: Thalkirchnerstraße 2, Munich, Germany, 80337
Café Glück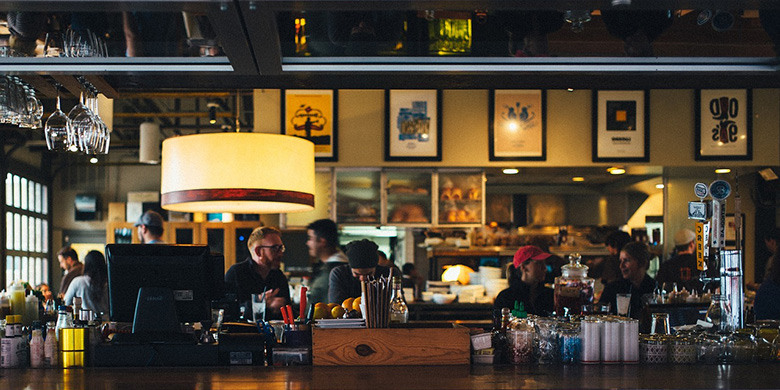 Although it is straight-owned, Café Glück is popular with Munich's queer community, and is most often patronized by lesbians. The menu here is largely organic and freshly prepared. One stand out feature at this eatery is the weekend breakfast offerings, such as fried eggs, bacon, and French toast. There are many vegetarian options on offer as well. However, Café Glück isn't popular only in the mornings; the venue is often the host of live music and temporary art galleries, making it a popular place for nightlife and the local art community. The atmosphere is cozy and relaxed; a popular place to sit back and unwind.
Phone: +49 89/201 1673
Address: Palmstraße 4, Ludwigsvorstadt-Isarvorstadt, Munich, Germany 80469
Tantris
Tantris is most popular among the serious foodies in Germany, likely due to its two Michelin stars. It's food is often ranked among the finest in Germany, specializing in avante-garde cuisine. Chef Hans Haas was once voted the top chef in Germany. The menu at this eatery is French, with both classic and modern fare on offer. If you're looking for traditional German dishes, you may want to look elsewhere. The food at Tantris does come with a hefty price tag, however. Visitors can expect to be greeted by a modern, yet over-the-top appearance, with stone animal sculptures and unique lighting. Located near other gay sites, it is popular among the queer population.
Phone: +49 89/361 9590
Address: Johann-Fichte-Straße 7, Schwabing-West, Munich, Germany 80805
Cafe Luitpold
This patisserie has been a Munich landmark since the 19th century. It has since been redesigned with a more modern look, but its cakes are still ranked among the best in Munich. The cafe also offers seating at an indoor palm court. The most unique feature at this eatery is its upstairs museum that regails visitors about the history of Munich. The cafe also hosts cultural events, including music, readings, and lectures. The eatery prides itself on hosting diverse events to accommodate guests of all ilks, such as its LGBT-friendly Summer Party. Although it's called a cafe, there is actually a full restaurant menu on offer.
Phone: +49 89/242 8750
Address: Brienner Straße 11, Altstadt, Munich, Germany 80333
Beim Franz
Beim Franz is another stop on this list that pays homage to Munich's Bavarian culture. Unassuming on the outside, inside the restaurant you'll find plenty of relics of Munich's gay history and culture. Photos adorn the walls depicting the queer past of the city, making it a clearly welcoming environment. This identity is clearly important to the restaurant's gay owner. While it prides itself on this gay twist, the menu at Beim Franz is steeped in Bavarian tradition, featuring classics such as Cordon Bleu, schnitzel, and liver spaetzle.
Phone: +49 89/260 7547
Address: Holzstraße 41, Munich, Germany 80469